Présentation, petit guide conseil d'achat pour un beau miroir ancien.
Dernière mise à jour / last update : 8 Août 2019
"Ne perdons rien du passé,ce n'est qu'avec le passé qu'on fait l'avenir" (Anatole France)
Bienvenue sur ce
site consacré aux miroirs, sculptures et autres belles pièces anciennes.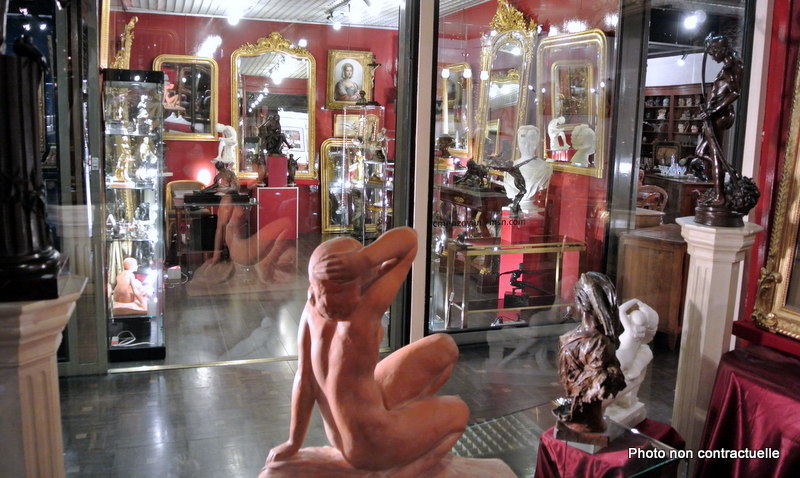 Vous trouverez sur ce site une sélection (pratiquement unique sur Lyon et la région ) de miroirs anciens dorés à la feuille d'or, pour la plupart d'époque XIXème : Empire, Restauration, Louis philippe, Napoléon III.

Tous en très bel état de présentation, nettoyés et contrôlés avec soin, prêts à être installés.


Je vous propose également des sculptures, statues en bois, marbre, bronze ,terre cuite ...de différentes époques
du XVIIIème au XXème siècle, abordant tous les grands thèmes : historiques, religieux, mythologiques, héros héroïnes, allégories ... toutes sélectionnées avec la même exigence de qualité et d'authenticité.

Mes objets sont vendus accompagnés d'une facture comportant toutes les mentions légales, incluant le complet descriptif de l'oeuvre, vous garantissant sa conformité et son origine.



Ce site régulièrement mis à jour (pratiquement en temps réel) vous présente l'ensemble de mon stock disponible, je suis également présent sur les principales galeries marchandes d'antiquités du web: Proantic, Anticstore ....
40 années de pratique dans ce vaste domaine m'ont permis d'acquérir une certaine expérience que j'espère vous faire partager, aujourd'hui encore j'ai beaucoup de plaisir à découvrir et vous proposer ces pièces authentiques, sélectionnées que ce soit pour la qualité de création, la noblesse des matériaux, leur caractère, leur histoire ...

Après 30 années de présence en boutique (dont 18 à la Cité des Antiquaires de Lyon), aujourd'hui si vous désirez voir en showroom un objet en particulier, merci de prendre contact pour un rendez-vous.


Tel: 06 85 15 56 58 / Mail : marcmenzoyan@msn.com



Je vous souhaite une bonne visite
Marc Menzoyan
You will find on this site a selection (practically unique on Lyon and the région) of old mirrors gilded with gold foil, mostly produced in tne nineteenth century: Empire, Restauration, louis Philippe, Napoléon III.
All in very beautiful state of presentation, cleaned and carefully controlled, eventually restored by a professional gilder.
I also propose sculptures, wooden statues, marble, bronze, terracotta... from different eras
From the eighteenth to the twentieth century, tackling all the major themes: historical, religious, mythological, allegorical, heroin heroes... always selected with the same requirement of quality and authenticity.
This site regularly updated (practically in real time) presents to you all of my stock available, I am also present on the main shopping arcades of antiquities of the Web: Proantic, Anticstore....
My items are sold together with an invoice containing all the legal notices, including the complete description of the work, guaranteeing its conformity and its origin.
40 years of practice in this vast field have allowed me to acquire some experience that I hope to share with you, even today I have a lot of pleasure to discover and offer you these authentic pieces, selected for their character, quality of workmanship, the nobility of materials, their history...
After 30 years of presence in the shop (18 of them in the city of antique dealers of Lyon), today if you wish my showroom allows (by appointment) to see a particular object.


Contact Tel: 06 85 15 56 58/Mail: Marcmenzoyan@msn.com
I wish you a good visit

Marc Menzoyan


Guide d'achat pour un miroir ancien, comment déterminer le prix.
Vous voulez acquérir un miroir ancien ?
Incontournable élément de décor qui a sa place dans toutes les maisons du monde, votre miroir doit refléter également votre goût en matière de style et de proportions… les différents éléments suivant ont une incidence sur le prix d'achat.
L'époque :
Hormis les moins courants du XVIIème siècle, la majorité des miroirs dorés à la feuille d'or qui sont proposés à la vente datent du XVIIIème et principalement XIXème siècle.
-Les miroirs XVIIIème, en bois sculpté et doré, souvent à fronton et parcloses (ou réserves), d'un décor très marqué par l'ornementation de leur époque, du Louis XIV au Directoire.
-Les miroirs XIXème en bois et stuc doré (l'aspect final de la dorure étant le même sur bois ou stuc)
de style Empire au Napoléon III, leur production relativement importante permet encore de nos jours de pouvoir les trouver assez facilement sur le marché, ainsi l'incontournable miroir Louis Philippe et ses lignes sobres facilitant son intégration dans la majorité des intérieurs, le miroir Napoléon III au décor riche d'ornements empruntés à tous les autres styles, donnant plus de caractère à votre intérieur.

Pour l'ensemble de ces modèles : les bonnes questions


-Son état

Tout d'abord la qualité de sa dorure : d'origine (feuille d'or) mate ou brillante(agatée), en parfait état, état moyen, avec ou sans restauration...

La structure doit être saine, vérifiez à l'arrière l'absence de moisissures,dégâts d'insectes,le bon état des assemblages.

La glace est-elle d'origine ? dégradée ou piquée (altérations)

L'arrière (fond) est-il également d'origine, complet, en bon état de propreté.


-Le décor

La recherche architecturale, l'originalité, la qualité et la richesse de l'ornementation, la finesse et la force dans les détails, l'épaisseur, la largeur (l'importance) de la mouluration ainsi que les dimensions entrent en ligne de compte.



-Le marché


A ces considérations matérielles et techniques, le prix évolue selon la rareté , l'offre et la demande, la tendance du moment. Attention aux écarts importants de prix, méfiance sur les "belles affaires" aux prix dérisoires.

En conclusion, toujours en fonction de vos possibilités, faites intervenir votre caractère et votre esprit dans votre choix en gardant en tête les conseils ci-dessus. n'hésitez pas à me contacter pour plus d'éclaircissements.




Buying Guide for an old mirror, how to determine the Price.
Want to acquire an antique mirror?
An indispensable element of décor that has its place in all the houses of the world, your mirror must also reflect your taste in style and proportions... the following elements affect the purchase price.
The Time:
Apart from the less common of the XVII century, the majority of golden-leafed gold mirrors that are offered for sale date from the eighteenth and mainly nineteenth Century.
-eighteenth-century mirrors, carved and gilded, often in pediments and enclosed (or reservations), with a decoration very marked by the ornamentation of their time, from the Louis XIV to the executive Board.
-the 19th century mirrors in wood and gilded stucco (the final appearance of the gilding being the same on wood or stucco) in Empire style to the Napoleon III, their relatively large production still allows nowadays to be able to find them fairly easily in the market, so the Incon Tournable Mirror Louis Philippe and his sober lines facilitate his integration in the majority of interiors, the Mirror Napoleon III with the rich decor of ornaments borrowed from all the other styles, giving more character to your Interior.
For all of these models, the right questions:
-Its state
First of all the quality of its gilding: original (gold leaf) matt or shiny (agathée), in perfect condition, medium state, with or without restoration...
The structure must be healthy, check the back for the absence of mold, insect damage, The good condition of the joints is the ice original? Degraded or stung, with stains, scratches, or replaced...
The rear (or bottom) is also original, complete, in good condition, possibly redone.
-the Scenery
The architectural research, the originality, the quality and the richness of the ornamentation, the finesse and the strength in the details, the thickness, the width (the importance) of the mouldings, as well as the dimensions, all these elements come into Consideration.
-The market
To these material and technical considerations, the price evolves according to scarcity, Supply and demand, the trend of the Moment. Attention to the important differences of price, mistrust on the "beautiful business " at derisory Prices.
In conclusion, always depending on your possibilities, involve your character and your mind in your choice by keeping in mind the tips Above. Feel free to contact me for further Clarification.