Sculptures et statues XIXème et XXème
Buste en marbre représentant la Sainte Vierge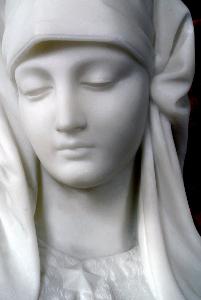 Buste sculpté en taille directe dans un marbre blanc de Carrare, d'époque début XXème, représentant la Sainte-Vierge, la chevelure cachée d'un voile, son visage évoquant douceur et pureté. Présence à l'arrière de la signature : E. FIASCHI. Emilio Fiaschi (1858/1941) étudie la sculpture l'école des Beaux-Arts de Florence, exerçant son art dans cette ville de la fin du XIXème au début XXème siècle. Grande maîtrise dans le travail du marbre, bel état général, infimes manques, parfaite qualité de la pierre (pas de veines ou inclusions).
Hauteur 48.5 cm Largeur 30 cm Profondeur 20 cm Poids 21.5 kg Son prix: 2800 euros

Bust carved in direct size in a white Carrara marble, from the early twentieth century, representing the Blessed Virgin, the hair hidden from a veil, her face evoking softness and purity. Presence at the back of the signature: E. FIASCHI. Emilio Fiaschi (1858/1941) studied sculpture at the School of Fine Arts in Florence, practicing his art in this city from the late nineteenth to the early twentieth century. Great mastery in the work of marble, beautiful general condition, minute gaps, perfect quality of the stone (no veins or inclusions).
Height 48.5 cm Width 30 cm Depth 20 cm Weight 21.5 kg Its price: 2800 euros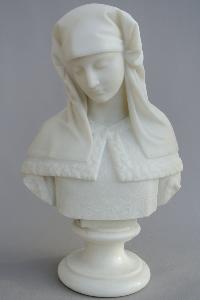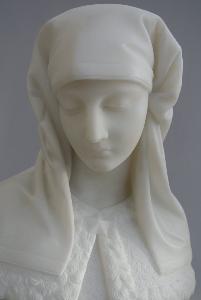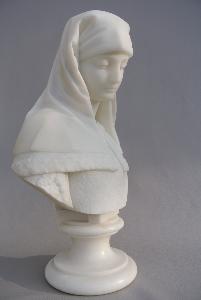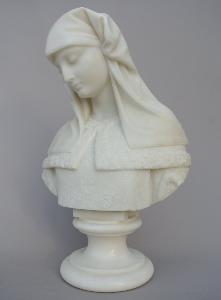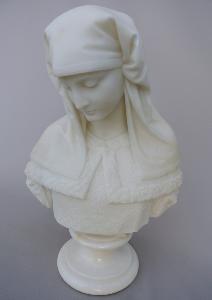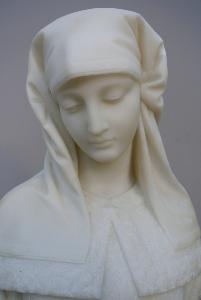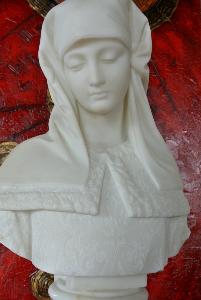 -----------------------------------------------------------------------------------
JEANNE d'ARC en prière (Georges Salendre)
Jeanne d'Arc priant, sculpture produite vers 1950 (milieu XXème), en taille directe dans de la Pierre de Bourgogne. Signature de Georges Salendre visible sur le socle. Parfait état de présentation, sans fêles, manques ou restauration. La hauteur indiquée (87 cm) s'entend avec le socle de 19 cm .

Hauteur totale : 87 cm largeur : 26 cm Poids : 46 kg Son prix : 5500 euros
Georges Salendre sculpteur lyonnais né en 1890 à Romanèche-la -Montagne (Ain), décède à Lyon en1985. Cet artiste du XXème siècle remporte en 1913 un premier prix à l'école des Beaux-arts de Lyon, grièvement blessé lors de la 1ère guerre mondiale, il entre dans la résistance en 1940. Souvent sollicité pour de nombreux monuments commémoratifs à la gloire des soldats morts pour la France, il est l'auteur en 1948 (avec l'architecte louis Thomas) d'un impressionnant « Veilleur de pierre » place Bellecour. Grand prix de l'Exposition internationale de sculpture à Paris en 1937, ses œuvres couvrent également différents thèmes allant des hommes politiques contemporains, des scènes de vie ou de la religion. En 1950 Georges Salendre est nommé Officier de la Légion d'Honneur pour ses actions dans la résistance.

Joan of Arc praying, sculpture produced around 1950 (mid-20th), in direct size in the Stone of Burgundy. Georges Salendre's signature visible on the base. Perfect state of presentation, without cracks, gaps or restoration. The indicated height (87 cm) is understood with the 19 cm base. Total height: 87 cm width: 26 cm Weight: 46 kg Its price: 5500 euros

Georges Salendre, a Lyon sculptor born in 1890 in Romanèche-la-Montagne (Ain), died in Lyon in 1985. This 20th century artist won a first prize in 1913 at the School of Fine Arts in Lyon, seriously wounded during the First World War, he entered the resistance in 1940. Often asked for many memorials to the glory of the soldiers who died for France, he was the author in 1948 (with the architect Louis Thomas) of an impressive "Stone Watchman" in Place Bellecour. Grand prize of the International Sculpture Exhibition in Paris in 1937, his works also cover various themes ranging from contemporary politicians, scenes of life or religion. In 1950 Georges Salendre was appointed Officer of the Legion of Honour for his actions in the resistance.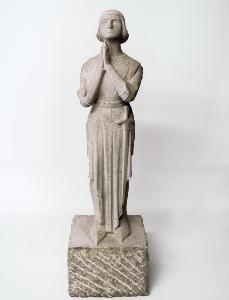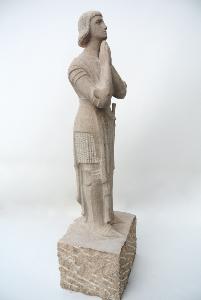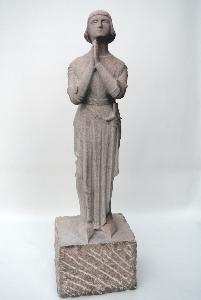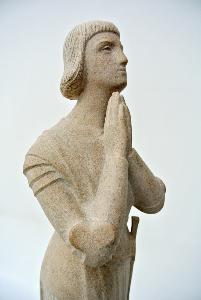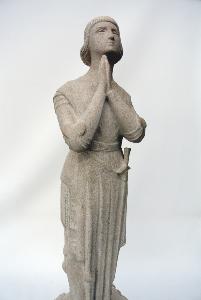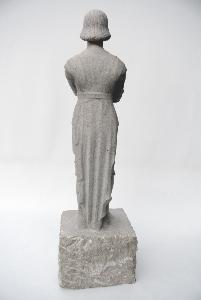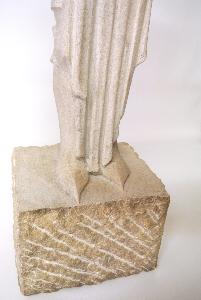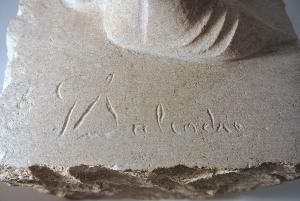 -------------------------------------------------------------------------------
Saint Marc,
apôtre évangéliste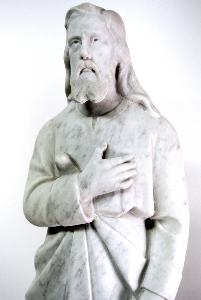 Sculpture taillée dans du marbre de Carrare représentant l'apôtre Saint-Marc et produite à la fin du XIXème siècle. Figurent les symboles qui sont attribués à ce personnage : l'évangile et le lion. Inscription sur le socle: MARCUS APOSTOLUS. Bon état général selon son ancienneté, quelques manques et présence de légères brèches (visibles sur les photos).

Hauteur 59 cm Largeur 20.5 cm Profondeur 12 cm Poids 17 kg Son prix: 1900 euros

Sculpture carved from Carrara marble depicting the Apostle St. Mark and produced at the end of the 19th century. These are the symbols that are attributed to this character: the gospel and the lion. Inscription on the base: MARCUS APOSTOLUS. Good general condition according to its seniority, some shortages and presence of slight gaps (visible in the photos).

Height 59 cm Width 20.5 cm Depth 12 cm Weight 17 kg Its price 1900 euros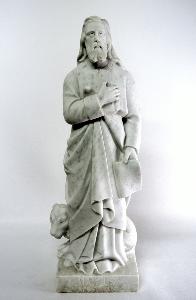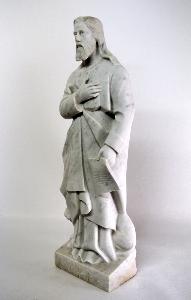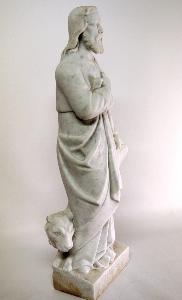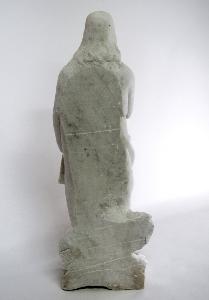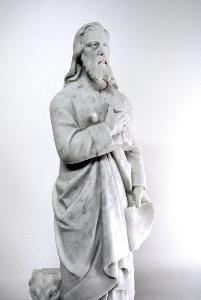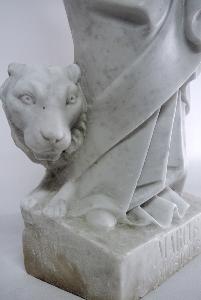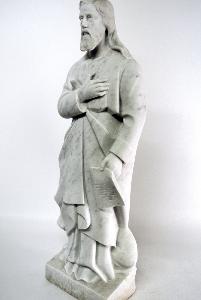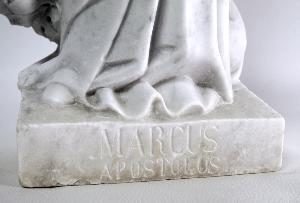 ----------------------------------------------------------------------------
----------------------------------------------------------------------------------------


« Buste féminin » sculpture haut-relief en terre cuite signée CH. DESVERGNES. Sur le côté, présence de la mention: ORIGINAL 1
er
Grand Prix de ROME. Bel état de présentation. Charles DESVERGNES sculpteur né à Bellegarde (Loiret) élève de Chapu et Jouffroy expose aux salons à partir de 1880. Datée 17 (1917)

Largeur 24 cm hauteur 32 cm profondeur 14 cm poids 10 kg

Son prix : 1600 euros
"Feminine bust" terracotta sculpture by CH. DESVERGNES. On the side, presence of the mention: ORIGINAL 1st Grand Prix of ROME. Nice presentation state. Charles DESVERGNES sculptor born in Bellegarde (Loiret) pupil of Chahar and Jouffroy exhibits at the salons from 1880. Dated 17 (1917)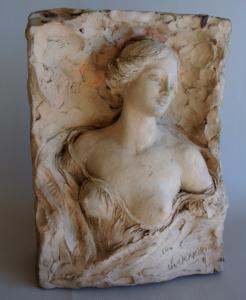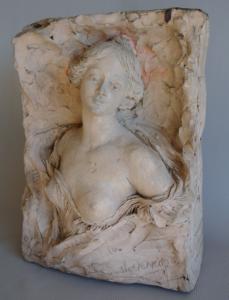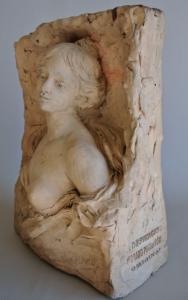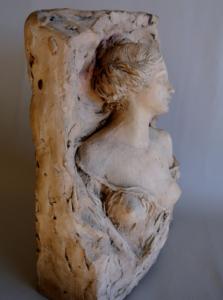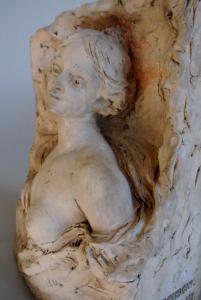 -------------------------------------------------------------------


Petite sculpture en marbre de Carrare, époque XIXème, représentant un buste de Jean-Jaques Rousseau, portant les lettres S L M sur l'arrière. Base en marbre rouge Griotte et support en bronze. Bon état général. Le socle est inclus dans les dimensions indiquées.

Hauteur 26.5 cm Largeur 11.5 cm Son prix: 780 euros

Small sculpture in Carrara marble, nineteenth century, representing a bust of Jean-Jaques Rousseau, bearing the letters S L M on the rear. Base in red cherry marble and bronze holder. Good general condition. The base is included in the dimensions indicated.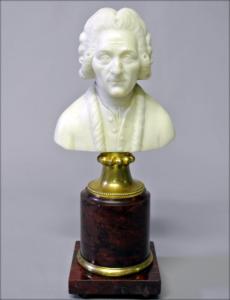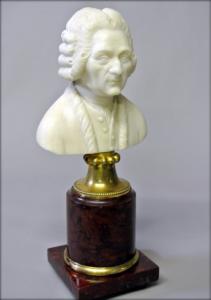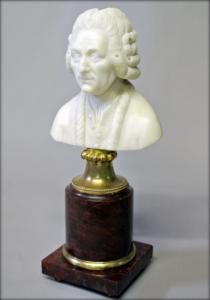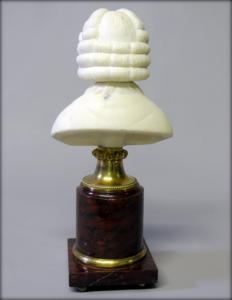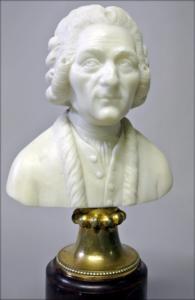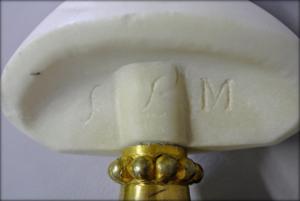 ----------------------------------------------

Sculpture en marbre de Carrare signée sur sa base G COLIN : Georges COLIN Sculpteur français né à Vincennes 1876/1917 élève de Charles Valton, expose au Salon à partir de 1899.
Représentation d'un homme puissant menant une embarcation, oeuvre connue sous le titre: "Le Pilote"
Modèle produit vers 1910. Très bon état de présentation.

Carrara marble Sculpture signed on its base G Colin: Georges Colin French sculptor born in Vincennes 1876/1917 pupil of Charles Vaishnav, exhibits at the Salon from 1899. Depiction of a powerful man leading a boat, a work known as: "The driver " model produced around 1910. Very good state of presentation.
Hauteur 39.5 cm Largeur 31 cm Profondeur 22 cm Son prix: 3900 euros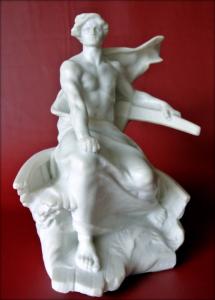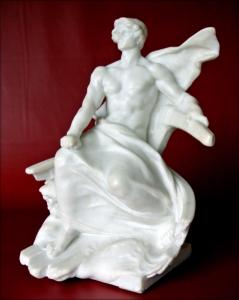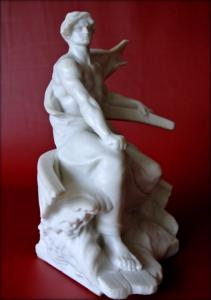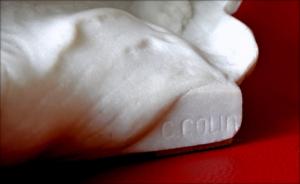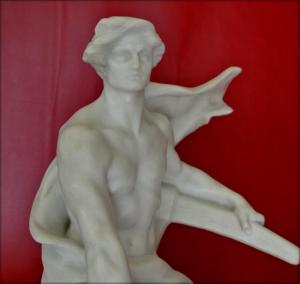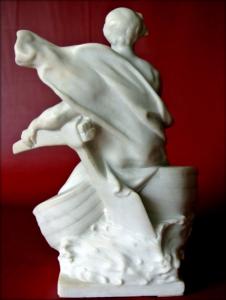 ----------------------------------------------
Sculpture en marbre de Carrare (taille directe), époque Art-Déco (vers 1930) signée A.GENNARELLI : Amadéo Gennarelli (1881/1943), sculpteur d'origine italienne né à Naples, ayant exposé dans les salons français.

Représentation d'une "jeune femme dans une pose sensuelle"

Parfait état de présentation , signature sur la base.

Longueur 68.5 cm Profondeur 10.5 cm Hauteur 23 cm Son prix : 4200 euros


Sculpture in Carrara marble (direct size), Art Deco era (circa 1930) signed A. GENNARELLI: Amadeo GENNARELLI (1881/1943), a sculptor of Italian origin born in Naples, having exhibited in the French salons. Representation of a "young woman in a sensual pose" perfect state of presentation, signature on the base.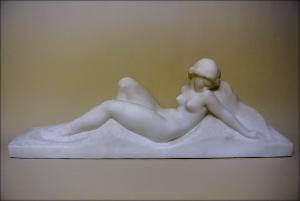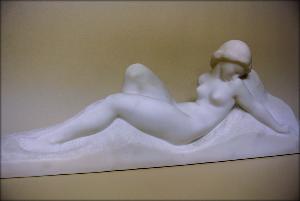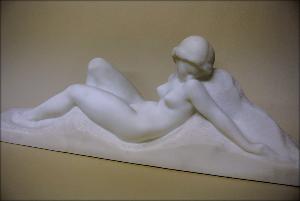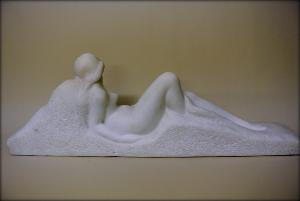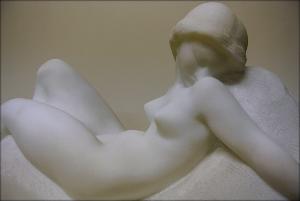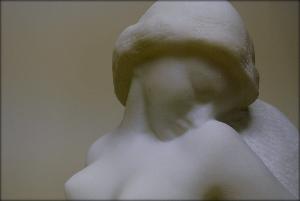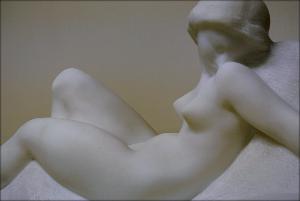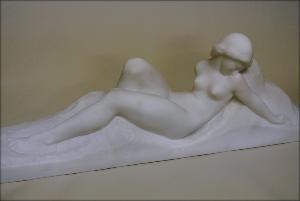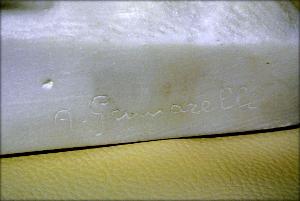 ---------------------------------------------------------------
Important buste en marbre blanc de Carrare , signé H - ICARD (Honoré Icard sculpteur français né à Tourtouse en Ariège 1845) représentation d'une dame de qualité pouvant être Marie-Thérèse de Habsbourg impératrice d'Autriche, le vêtement drapé et finement travaillé de plis et motifs floraux, les cheveux élégamment tenus en arrière. Epoque 1900 .

Hauteur totale 75 cm largeur 56 cm profondeur 35 cm. Le prix : 5500 euros.

Important bust in white Carrara marble, signed H-ICARD (Honoré ICARD French sculptor born in Tourtouse in Ariège 1845) representation of a lady of quality who can be Maria Teresa of Habsburg Empress of Austria, the garment draped and finely Worked with floral pleats and motifs, the hair elegantly held back. Epoque 1900.


----------------------------------------------------


Jeune femme et son colley dans l'esprit Art-Déco, terre cuite d'époque début XXème signée Georges Coste (sculpteur né à Romans , école française) très bon état de présentation, porte les cachets des éditeurs Susse Frères Paris. Longueur 65 cm, profondeur 21 cm, hauteur 32 cm.
Son prix: 900 euros

Young woman and her colley in the Spirit Art-deco, terracotta of epoch early 20th signed Georges Coste (sculptor born in Romans, French school) very good presentation, carries the tablets of publishers Susse Frères Paris.