Sculptures et statues XIXème et XXème
Buste en marbre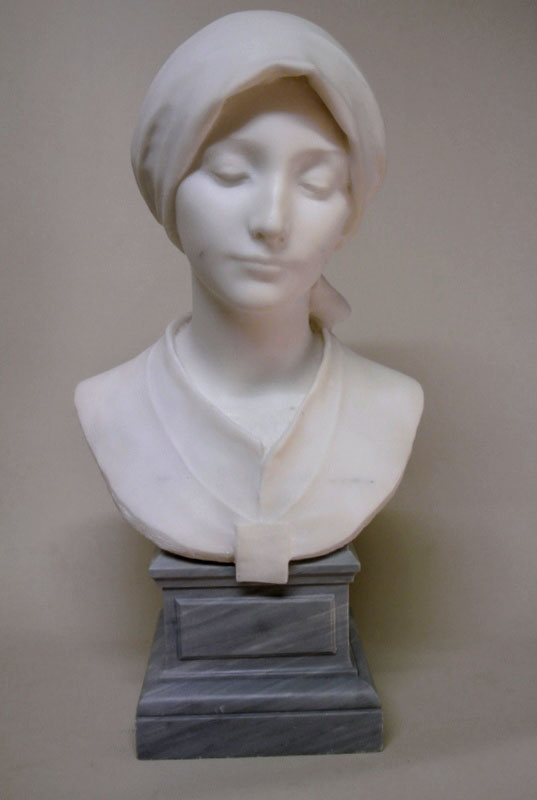 Sculpture en marbre de Carrare produite dans la seconde moitié XIXème (1890/1900), signée A. LEONARD, elle représente une jeune fille au visage très pur, la chevelure cachée. Un modèle similaire est exposé au musée des Beaux-Arts de LILLE sous le titre « Le scapulaire » il est daté de 1891.

Statue de belle présentation selon son ancienneté, quelques fines inclusions veinées dans le marbre (visibles sur les photos), la base en marbre ouvragé bleu Turquin (légère traces d'oxydation). Le socle est inclus dans la hauteur indiquée. VENDUE
LEONARD VAN WEYDEVELD dit AGATHON, est né à Lille en 1841, élève de l'Académie des Beaux-Arts de Lille, ses œuvres sont présentées de 1868 jusqu'en 1914 à la Société Nationale des Beaux-Arts de Paris, outre de nombreuses récompenses, il obtient la médaille d'or à l'Exposition Universelle et fût Chevalier de la Légion d'Honneur.

Hauteur 54.5 cm Largeur 28.5 cm Profondeur 26 cm Poids 31.2 kg


Carrara marble sculpture produced in the second half XIX (1890/1900), signed A. LEONARD, she represents a girl with a very pure face, hidden hair. A similar model is exhibited at the Museum of fine arts of LILLE under the title "the scapular" it is dated 1891.
Statue of beautiful presentation according to its seniority, some fine inclusions veined in the marble (visible in the photos), the base in blue carved marble Turquin (slight traces of oxidation). The base is included in the indicated height.
LEONARD VAN WEYDEVELD dit AGATHON, was born in Lille in 1841, student of the Academy of fine arts of Lille, his works are presented from 1868 until 1914 to the national society of fine arts of Paris, in addition to numerous awards, he obtains the gold medal at the World Exposition and was Knight of the Legion of honour.
Height 54.5 cm width 28.5 cm depth 26 cm weight 31.2 kg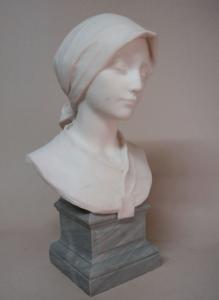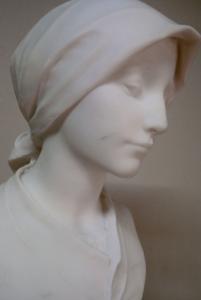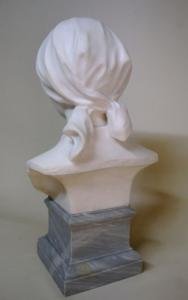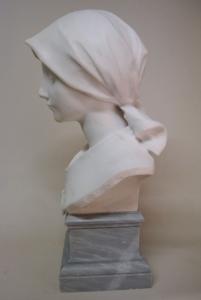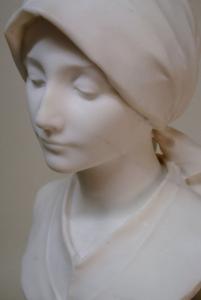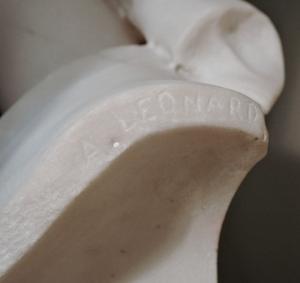 -------------------------------------------------------------------

" Enfant au carquois" (marbre)
Sculpture travaillée dans du marbre de Carrare, signée POMI, produite dans la première moitié du XXème siècle (vers 1930) : "Enfant au carquois" sujet inspiré par "l'Amour menaçant" de Falconet (Le sculpteur Pomi n'a pas reproduit les ailes). Alessandro POMI peintre et sculpteur italien 1890/1976 est surtout reconnu pour ses tableaux. Très bel état général aucune restauration, socle également en marbre ouvragé.
Hauteur totale 61 cm Diamètre de la base 26 cm Son poids 32.5 kg Le prix : 6500 euros


Statue worked in Carrara marble and signed POMI, produced in the first half of the twentieth century, "Child with Quiver" subject inspired by the "Menacing Love" of Falconet (the sculptor POMI did not reproduce the wings). Alessandro POMI, Italian painter and sculptor, 1890/1976 is best known for his paintings. Very nice general condition no restoration, plinth also in crafted marble.
Total height 61 cm base Diameter 26 cm its weight 32.5 kg the price: 6500 euros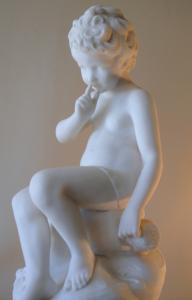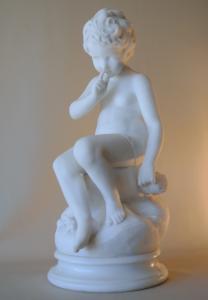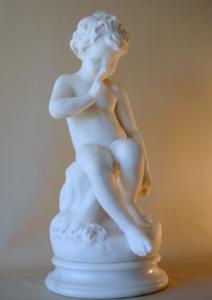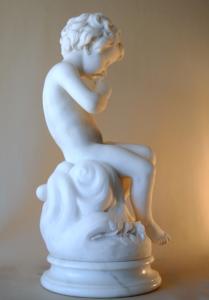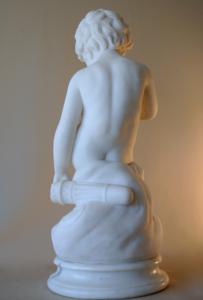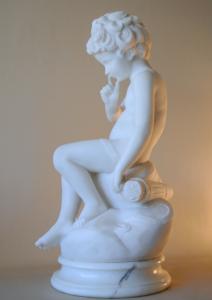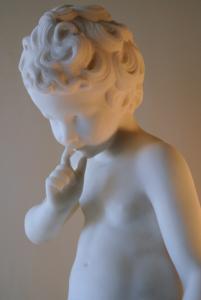 -----------------------------------------------------



Sculpture en albâtre
Sculpture en albâtre (taille directe) représentant un jeune garçon en buste, signé sur sa base Dante Zoi Firenze, sculpteur italien actif fin XIXème début du XXème siècle. Très bel état de présentation, absence d'altérations.

Hauteur 35 cm largeur 26 cm Poids 11 kg Son prix 1400 euros

Alabaster Sculpture depicting a young boy in a bust, signed on his base Dante Zoi Firenze, Italian sculptor active late 19th-20th century. Very nice state of presentation, no alteration.
Height 35 cm Width 26 cm Weight 11 kg its price 1400 euros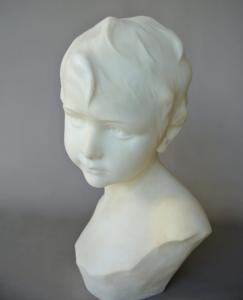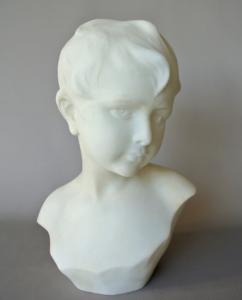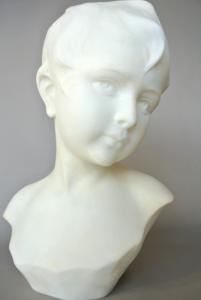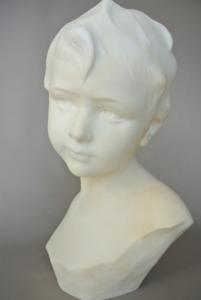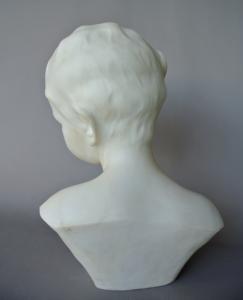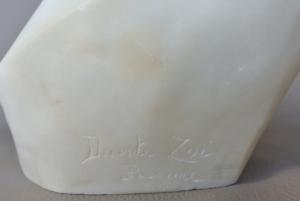 « Buste féminin » sculpture haut-relief en terre cuite signée CH. DESVERGNES. Sur le côté, présence de la mention: ORIGINAL 1er Grand Prix de ROME. Bel état de présentation. Charles DESVERGNES sculpteur né à Bellegarde (Loiret) élève de Chapu et Jouffroy expose aux salons à partir de 1880. Datée 17 (1917)

Largeur 24 cm hauteur 32 cm profondeur 14 cm poids 10 kg

Son prix : 1600 euros
"Feminine bust" terracotta sculpture by CH. DESVERGNES. On the side, presence of the mention: ORIGINAL 1st Grand Prix of ROME. Nice presentation state. Charles DESVERGNES sculptor born in Bellegarde (Loiret) pupil of Chahar and Jouffroy exhibits at the salons from 1880. Dated 17 (1917)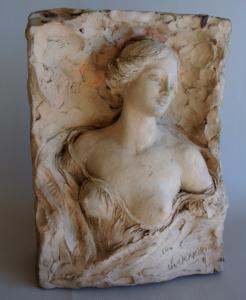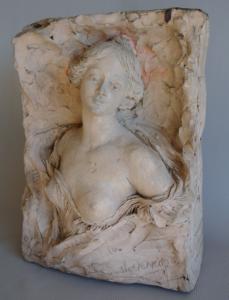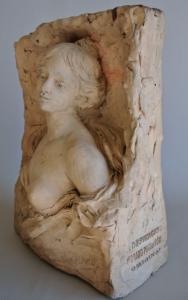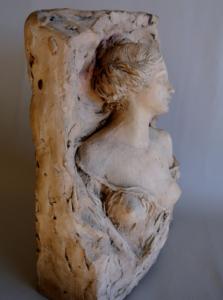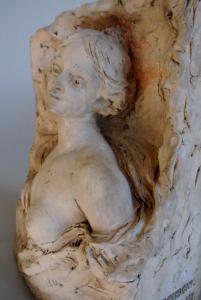 -------------------------------------------------------------------


Petite sculpture en marbre de Carrare, époque XIXème, représentant un buste de Jean-Jaques Rousseau, portant les lettres S L M sur l'arrière. Base en marbre rouge Griotte et support en bronze. Bon état général. Le socle est inclus dans les dimensions indiquées.

Hauteur 26.5 cm Largeur 11.5 cm Son prix: 780 euros

Small sculpture in Carrara marble, nineteenth century, representing a bust of Jean-Jaques Rousseau, bearing the letters S L M on the rear. Base in red cherry marble and bronze holder. Good general condition. The base is included in the dimensions indicated.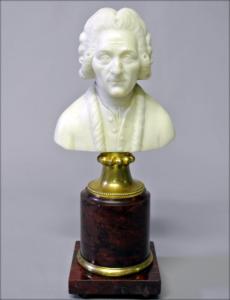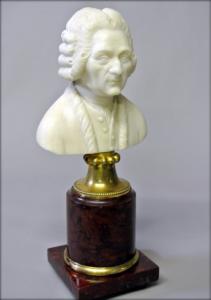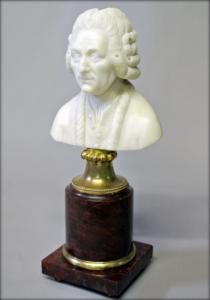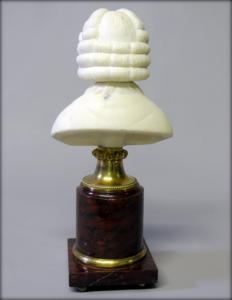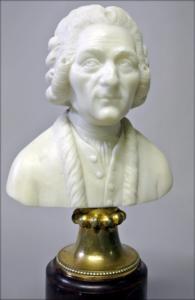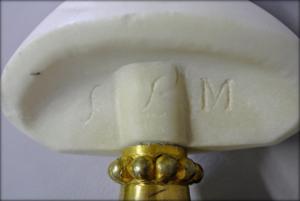 ----------------------------------------------

Sculpture en marbre de Carrare signée sur sa base G COLIN : Georges COLIN Sculpteur français né à Vincennes 1876/1917 élève de Charles Valton, expose au Salon à partir de 1899.
Représentation d'un homme puissant menant une embarcation, oeuvre connue sous le titre: "Le Pilote"
Modèle produit vers 1910. Très bon état de présentation.

Carrara marble Sculpture signed on its base G Colin: Georges Colin French sculptor born in Vincennes 1876/1917 pupil of Charles Vaishnav, exhibits at the Salon from 1899. Depiction of a powerful man leading a boat, a work known as: "The driver " model produced around 1910. Very good state of presentation.
Hauteur 39.5 cm Largeur 31 cm Profondeur 22 cm Son prix: 3900 euros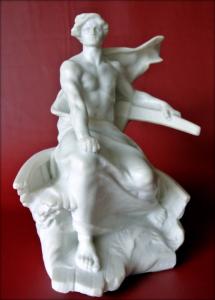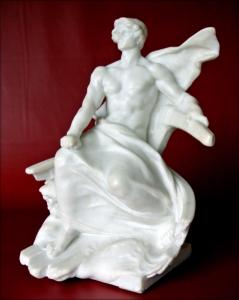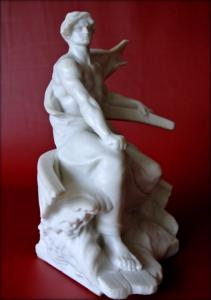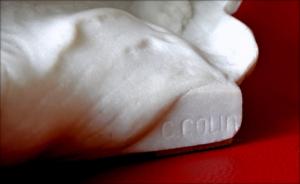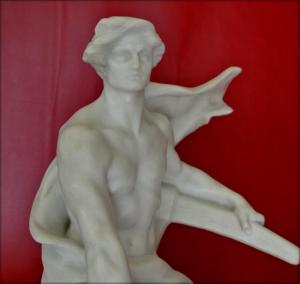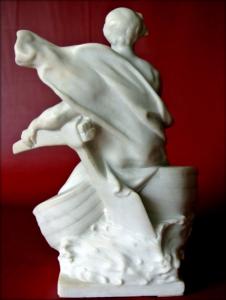 ---------------------------------------------
Jeune femme accroupie, statue en terre cuite patinée éditée par la manufacture Goldscheider dans la période Art-Déco vers 1930, très bon état général, absence de recollage ou fêle, petites décolorations sur la jambe visibles sur les photos,légère reprise de la patine autour du socle. Un modèle similaire est reproduit dans le catalogue d'Ora Pinhas consacré à Goldscheider.

Hauteur 38 cm Profondeur 19 cm largeur 19 cm Son prix : 680 euros

Young woman crouching, terracotta statue edited by the manufacture Goldscheider in the period Art-deco circa 1930, very good general condition, absence of recollage or cracks, small discolorations on the leg visible in the photos, slight resumption of the Skate around the base. A similar model is reproduced in the catalogue of Ora Pinhas dedicated to Goldscheider.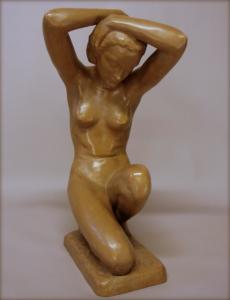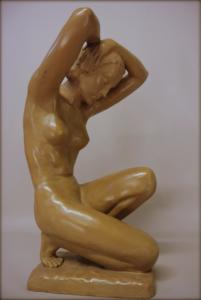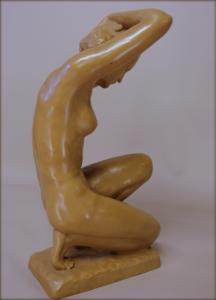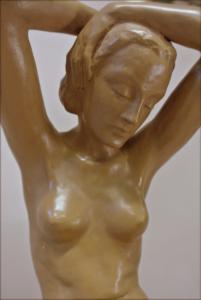 ----------------------------------------------
Sculpture en marbre de Carrare signée J ORTIS : " Nu féminin"
Jean Ortis sculpteur français d'époque début XXème, présent dans le livre : Art-Déco de Bryan Catley.
Oeuvre produite vers 1930. Statue en très bon état .

Longueur 42.5 cm Profondeur 12.5 cm Hauteur 40 cm Son prix : 3900 euros


Carrara marble Sculpture by J ORTIS: "Nu feminine " Jean ORTIS French sculptor of the period early 20th century, present in the book: Art deco by Bryan Catley. Work produced around 1930. Statue in very good condition.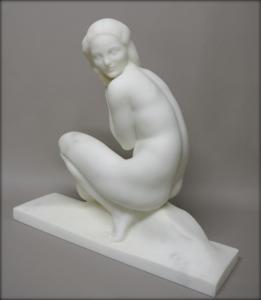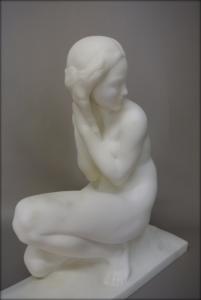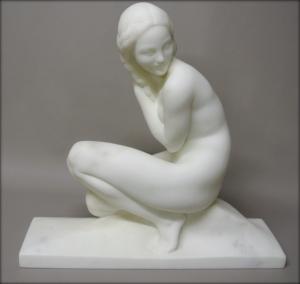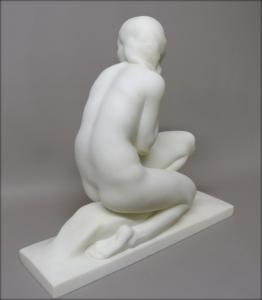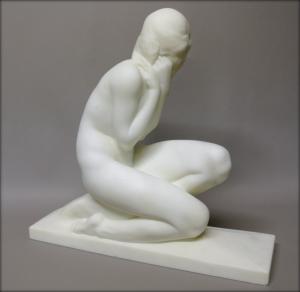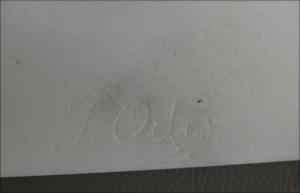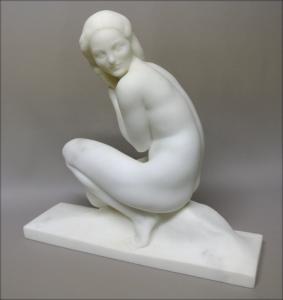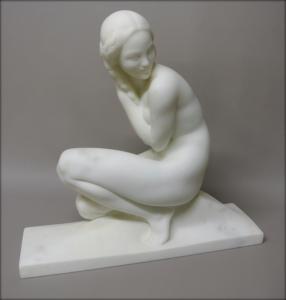 ------------------------------------------------------

Sculpture en marbre de Carrare (taille directe), époque Art-Déco (vers 1930) signée A.GENNARELLI : Amadéo Gennarelli (1881/1943), sculpteur d'origine italienne né à Naples, ayant exposé dans les salons français.

Représentation d'une "jeune femme dans une pose sensuelle"

Parfait état de présentation , signature sur la base.

Longueur 68.5 cm Profondeur 10.5 cm Hauteur 23 cm Son prix : 4200 euros


Sculpture in Carrara marble (direct size), Art Deco era (circa 1930) signed A. GENNARELLI: Amadeo GENNARELLI (1881/1943), a sculptor of Italian origin born in Naples, having exhibited in the French salons. Representation of a "young woman in a sensual pose" perfect state of presentation, signature on the base.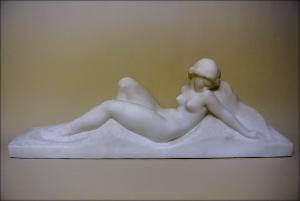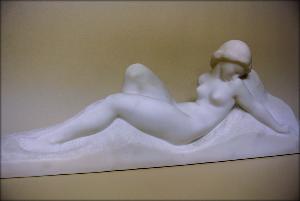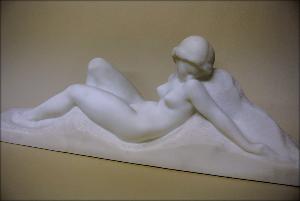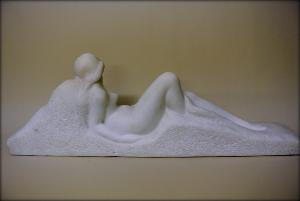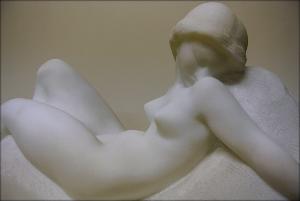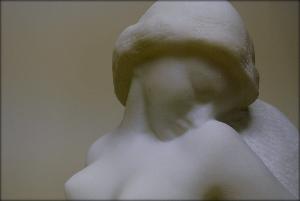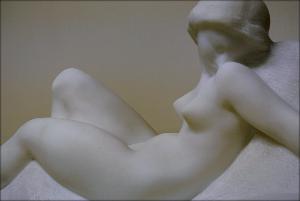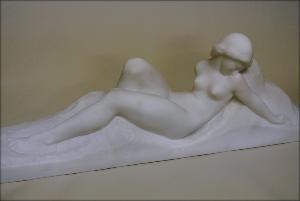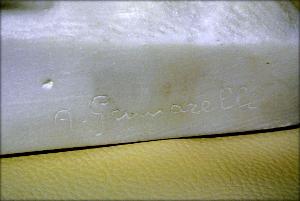 ------------------------------------------------------
Statue en terre cuite polychromée et dorée "Cléopâtre, un serpent sur son épaule" signée CHERC, sculpteur d'origine Autrichienne produisant essentiellement pour l'éditeur Friedrich GOLDSCHEIDER (présence des estampilles). Un modèle similaire figure dans le catalogue Terres cuites orientalistes et africanistes (STEPHANE RICHEMOND). Epoque fin XIXème, bon état général, légères restaurations de brèches anciennes et de patine.

Hauteur 54 cm , Largeur 28 cm , Profondeur 18 cm . Son prix: 2200 euros

Polychrome and gilded terracotta Statue "Cleopatra, a snake on her shoulder" signed CHERC, a sculptor of Austrian origin mainly producing for the publisher Friedrich GOLDSCHEIDER (presence of the stamps). A similar model is included in the Orientalist and Africanist Terracotta catalogue (STEPHANE RICHEMOND). Late 19th century, good general condition, slight restorations of old breccia and patina.


----------------------------------------------------------------
Buste d'une enfant, marbre de Carrare et socle en onyx, œuvre de A LESIEUX ( Augustin LESIEUX , né à SOMBRIN région Nord-Pas-De-Calais 1877/1964 ) élève de BARRIAS et COUTAN a également travaillé dans l'atelier de RODIN. Sculpture signée et datée 1917.
Hauteur du buste sans le socle 38 cm, hauteur totale 54 cm. Largeur 30 cm

Son prix : 3900euros

Bust of a child, Carrara marble and onyx plinth, work of a LESIEUX (Augustin LESIEUX, born in SOMBRIN Nord-Pas-de-Calais region 1877/1964) pupil of Barrias and COUTAN also worked in the atelier of RODIN. Sculpture signed and dated 1917, height of bust without base 38 cm, total height 54 cm. Width 30 cm
,
--------------------------------------------------------



Important buste en marbre blanc de Carrare , signé H - ICARD (Honoré Icard sculpteur français né à Tourtouse en Ariège 1845) représentation d'une dame de qualité pouvant être Marie-Thérèse de Habsbourg impératrice d'Autriche, le vêtement drapé et finement travaillé de plis et motifs floraux, les cheveux élégamment tenus en arrière. Epoque 1900 .

Hauteur totale 75 cm largeur 56 cm profondeur 35 cm. Le prix : 5900 euros.

Important bust in white Carrara marble, signed H-ICARD (Honoré ICARD French sculptor born in Tourtouse in Ariège 1845) representation of a lady of quality who can be Maria Teresa of Habsburg Empress of Austria, the garment draped and finely Worked with floral pleats and motifs, the hair elegantly held back. Epoque 1900. Tot


-----------------------------------------------

Terre cuite patinée du début XXème signée « CHERC » (époque fin XIXème/début XXème) représentation d'une jeune femme pendant la période des semailles, porte les numéros et le cachet de l'éditeur : Goldscheider. Très bon état d'origine. Hauteur 85 cm, largeur 40 cm, profondeur 38 cm, poids 9.8 kg
Son prix : 3200 euros.
Terracotta patina from the beginning of 20th century signed "CHERC" (late nineteenth/early 20th century) representation of a young woman during the sowing period, bears the numbers and the stamp of the publisher: Goldscheider. Very good State of origin.
----------------------------------------------------



Rébecca près du puits, statue en terre cuite, patine polychrome et dorée signée R AURILI (Ricardo Aurili 1834/1914) sculpteur représentant un passage de la bible. Epoque fin XIXème/début XXème, dans un bon état d'origine . Hauteur 76 cm
Son prix : 3200 euros
Rebecca near the well, terracotta statue, polychrome and gilded patina signed by R AURILI (Ricardo AURILI 1834/1914) sculptor representing a passage from the Bible. Late nineteenth/early 20th century, in a good state of origin.


------------------------------------------------------------
Jeune femme et son colley dans l'esprit Art-Déco, terre cuite d'époque début XXème signée Georges Coste (sculpteur né à Romans , école française) très bon état de présentation, porte les cachets des éditeurs Susse Frères Paris. Longueur 65 cm, profondeur 21 cm, hauteur 32 cm.
Son prix: 900 euros

Young woman and her colley in the Spirit Art-deco, terracotta of epoch early 20th signed Georges Coste (sculptor born in Romans, French school) very good presentation, carries the tablets of publishers Susse Frères Paris.


-----------------------------------------------------------------------


Sculpture en terre cuite reproduisant un singe intéressé par un escargot. Signé E. FREMIET : Emmanuel Frémiet Paris 1824/1910, sculpteur actif vers la fin du XIXème siècle, célèbre pour la représentation des grands personnages de l'Histoire, ses sujets animaliers et groupes équestres. Signature sur le socle et plaque laiton : E.FREMIET en incrustation. Bel état général selon son ancienneté, légers manques de patine visibles sur les photos, aucune restauration.

longueur 27 cm Profondeur 15.5 cm Hauteur 17 cm Son prix: 1200 euros


Terracotta Sculpture reproducing a monkey interested in a snail. Signed E. FREMIET: Emmanuel Frémiet Paris 1824/1910, sculptor active in the late nineteenth century, famous for the representation of the great characters of history, his animal subjects and equestrian groups. Signature on the base and brass Plate: E. FREMIET in inlay. Beautiful general condition according to its seniority, slight lack of patina visible in the photos, no restoration


--------------------------------------------------------